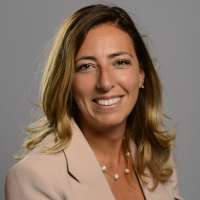 CHIARA BUCCIARELLI-DUCCI
Reino Unido

Dr Bucciarelli-Ducci is a consultant cardiologist and imaging specialist at the Royal Brompton and
Harefield Hospitals, Guys' and St Thomas NHS Trust in London, United Kingdom. She is also an
honorary Senior Lecturer in the School of Biomedical Engineer and Imaging Sciences at King's College
London.
In May 2019 she was also appointed Chief Executive Officer of the Society for Cardiovascular
Magnetic Resonance (SCMR) with headquarters in the United States.
She is the past European Association of Cardiovascular Imaging (EACVI) Vice-President and chair of
the cardiac MRI section (2016-2018), within the European Society of Cardiology (ESC).
Since September 2020, she is the Deputy Editor (Imaging) of the European Heart Journal.